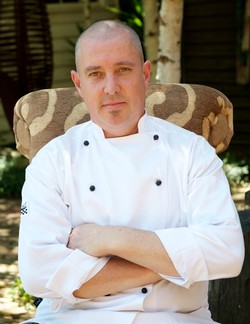 Marty Chichester - Owner/Director
Welshman Marty Chichester is the award winning Executive Chef & owner of the Chichester Restaurants Group. Marty is an innovative chef and restaurateur with over 30 years experience in the hospitality industry in both Australia and overseas.
Marty has been the face and head chef at Oakdene Vineyards since 2004, and in 2014 took over both the restaurant Marty @ Oakdene and bistro Mr Grubb @ Oakdene at Oakdene Vineyards, determined to carry on the continued success and loyal following he has accumulated over the years.
In 2018, Marty opened his latest venture - the cafe Fork N Flower at the Geelong Flower Farm in Moolap (off the Bellarine Highway).
All menus are designed using local and regional produce, giving patrons a wide variety of carefully prepared dishes representing seasonal ingredients with unique flavours and textures that will suit all tastes. Various dining options are available, including a la carte and degustation menus.